New Zealand, South Island - Road Trip Guide
This is my third time in New Zealand and I froth it so much that, well, I accidentally moved here. It's been deemed in the wanderluster circles as picturesque, magic, unlike anywhere else - and all of those things are completely true! So, if NZ has been on your list, don't let the potential price scare you away and save it for when you're retired, because those old legs won't get you to some of the most breathtaking views this country has to offer! This blog will outline where we went, what we did, the not-to-miss experiences if you're on a budget, what to pack and so much more. Sweet as, bro!
OUR ITINERARY
Originally, we planned to do a loop from Lake Tekapo continuing onwards to the West Coast to hit the glaciers (Fox and Franz Josef) but unfortunately a slip wiped out the road between us and them, so, in road-trip style, we pivoted and decided to trek down to Milford Sound instead. BEST. DECISION. EVER.
OUR VAN LIFE EXPERIENCE
Where we went, what we did and how I felt about it…
I've been dreaming of roadtripping the South Island since my first visit a few years ago when I lived at the luxury wellness retreat Aro Ha as a volunteer. Give me an open road, pine trees and turquoise water, and I'm officially a very happy chappy. Now, as our trip was going to be under 2 weeks, it wasn't viable to buy a car/van and resell in such a short time, but this is what I'd do if I planned to be on the South Island for longer as van rental is costly AF. I had done some mad research and found that Wicked Campers was the way to go. We hired the smallest van (Iconic 2 Seater) as we're two tiny humans and didn't mind not having space to cook and clean in the van, as our joy comes from the great outdoors. I freakin' LOVE cooking outside!
Important note: if you're not traveling solo, conversations around values, expectations and needs are a necessity to communicate before the trip begins. That way, you can create an itinerary with intention, and everyone has the trip of a lifetime. Do you snore? Does your friend hate hiking and expects to have a 5-star luxury trip, while you're keen to not shower for a few days and freedom camp? Is one of you plant-based and the other a flesh-hungry carnivore? All these little things contribute to a smooth experience if spoken about, rather than left to 'work itself out'. Get talkin', friends.
Wicked Campers have had a bad wrap, but our whole experience with them was a breeze. They threw in the 'self contained' certificate for free (which would have cost $100+) which meant we were able to freedom camp. They also offer a full day off your booking fee if you get photographed with your van naked… The van run pretty great on fuel considering the windy uphill roads and exxy petrol, and overall we were stoked on our choice! It covered all our needs, however we did spend about 100 bucks buying bedding, bowls, a quality knife and some other traveling necessities that don't come with the booking.
HIGHLIGHTS
Mount Aspiring NP, near Glenorchy Our first night's campsite was by far my favourite. It felt like we were in Middle Earth (which we found out, we actually were, as scenes from Lord of The Rings were filmed in the forest there). We attempted to camp out by Diamond Lake but the sandflies were unbearable, so we found a spot to freedom camp (no amenities, but no charge) by a running river on the forest edge, next to the bridge before entering the National Park. It was heaven on earth to me — vibrant moss, dusted mountains, dense forest to explore without a trail. We spent the last light of day exploring the fairytale-worthy forest with a bottle of whiskey in hand — divine.
Wanaka is so dear to me. Something about this place is truly magnetic — the town is nothin' too spesh, but the energy is calm and clear as a reflection of the stunning lake that the town surrounds. We camped at Albert Town Campground for $10 a night by a stream with a tonne of other campers, but it was an easy 10 minute drive out of town so we could catch the sunset on the lake alone then comfy up for the night. We were so blessed with sunny, warm days in late Feb which meant lazing soaking all the magic in. My body felt so energized on every level after a soak in this lake!
Aoraki NP (Mount Cook) DO NOT MISS THIS! We went in February which is peak season however, it still felt like we had the place to ourselves. This is such an epic part of being in NZ — no matter how busy it is, there is always a feeling of spaciousness. We camped for 2 nights at White Horse campground within the park, which was totally worth the $13 each so we could be amongst it for 3 whole days, and know the comfort of coming back to the warmth of the van after a day out hiking and getting dirty (see trail recommendations further down the post).
Seeing Mount Cook was by far the most important thing for me on this trip — there is something so alluring and powerful about the way it takes up space. It is truly incredible, and both hikes we did swept me away with the impressive views. We experienced rain, crisp chilly nights and sunny clear days, so make sure to pack layers!
Lake Pukaki We freedom camped beside this lake (turn left for the lookout then continue down the forestry road for multiple options to pull up lakeside in the forest!). I'd never heard of it and it waaaaay outdid Lake Tekapo in terms of visual appeal, the colour was simply ridiculous. Sunset and sunrise here was awe-inspiring. I got pretty peeved that it was uber windy when we pulled up to camp, so we spent a couple hours reading in the van before it calmed down and we cooked some hearty veg curry and skipped rocks to end the day in paradise. Gotta go with the flow! No photo can do this place justice— but trust me, if you can manage to be passenger for this leg of your journey, you'll have your faced pressed up against the window when you hit Pukaki!
Blue Pools Track You may have read over on Instagram that I had a pretty mystical experience here. A very chill 1km walk through the forest gets you to two suspension bridges over the blue pools, which we both jumped off in to the icy AF water below. When I saw the water here, I spontaneously began crying and gazed in to the crystal clear water for a while as the last light of day twinkled through the trees and danced on the water.
I felt a true homecoming — like returning to the Light. It's hard to explain, right? When we have certain places that just capture our whole hearts. It felt like a reminder of my true nature, an injection of pure life force, a deep remembrance.
We walked further on a little ways and through the bush to find our own private beach and I was pulled to march right to the end of the rocky sand and squat beside the running water. I heard quite loudly and clearly the voice of an elder, which repeated over and over the sound 'toko'. In this presence, I was just in awe of the land, attuning to who had walked before and how I fit in to the bigger picture. Interestingly, I googled this word in Maori and found this definition:
"toko"
1. (verb) to begin to move, spring up in the mind (of feelings and emotions), swell, increase in bulk.
Ka kī atu a Tū-rāhui, "He aroha ōku ki tā tāua tamaiti me taku titiro ake ki te rā e whanake nei i te huapae o te moana; ka toko ake te aroha i a au, koia e tangi nei ahau." (JPS 1913:176). / Tū-rāhui replied, "On account of my affection for our child, and because on seeing the sun rise on the sea horizon, love welled up in me, that is the reason I am crying."
So, who knows what message I was really receiving, but I carry this place dearly. It felt like a place to purify and cleanse on a cellular level, and as I floated in the icy blue (which immediately numbed my body it was so cold!) I felt Home.
Milford Sound I'm so glad we got here. It was a 4.5 hour trip each way from Queenstown, but because of our itinerary change (due to the west coast landslide) we decided to hit up Milford Sound. Yes, there's tonnes of tourists, but once again, you don't feel cramped up or overwhelmed with other humans because there's this ease, quiet and spaciousness that comes from this place. We stopped in Te Anau (the last town before the 2 hour drive through forest and hills to Milford) for pizza and a swim, then camped at the DOC site, Cascade Creek.
We had no idea when the cruise times were and didn't book anything (classic) so we woke up before the sun peaked over the mountains, drove to the visitor centre, whipped up some brekky in a jar and ran the 10 minute long walkway to the ferry terminal to literally make the Jucy Cruise as it was boarding. $40 each for the 2 hour cruise and it. was. epic. I've added some stock photos below that fill in the gaps of how ridiculously beautiful this place truly is. The drive there in itself is pure magic! Cue 'Old Pine' by Ben Howard and get to Milford, folks.
WHAT TO PACK (other than the usuals)
BUG SPRAY. Essential for campers! It's in bold for a reason. My roadie partner did not have a good time with sandflies at my favourite camp spot (they don't seem to get me!) and it can make or break a magic moment.

Gear for all kinds of weather. As you saw in the video above, within 13 days we were spat on and sun tanned. Pack the thermals AND the swimsuit.

A good camera. Though we shot all our pics and vids on iPhones, and that New Zealand's beauty is impossible to capture through a lens, we would have loved a solid DSLR. Not a necessity, spesh if you're having some offline time away from screens like I was, but would have been epic. Next time! (See below for some high quality photographs captured on the North Island on my retreat by @lanezilla).

Birkenstocks. Believe me, you're going to want it to be easy AF for middle-of-the-night toilet outings to slip 'em on, and you can't go past the comfort. Plus, socks and birks are such a fashionable look.

Dry shampoo and hair oil… I'm not major on the hair care, but with wind from the open road, days without showers and sharing my road trip with a barber, I needed to up my game. Keep a comb handy, you filthy animal.

CARRY CASH + COINS! Otherwise you might get caught stinky — a lot of the showers at campsites take coins and so do laundromats. Most DOC campsites require cash upon arrival to secure your spot. Also, just a note on those who wanna keep the budget down — the rangers do such an epic job managing these sites, keeping them tidy and the amenities clean that it's pretty disrespectful to do a dodgy and not pay. Invest in what you want more of in the world! Clean campsites, yes please. Food for thought ;) (and I've totally been there…).
PLANNING HACKS
Don't be a weather nerd. Honestly, I despise the weather man. So, unless it's crucial to check the weather forecast for a potential hike or driving day, I don't. In New Zealand you can get all seasons in one day, so do your best to not let the weekly weather dictate your plans and instead roll with it, or at least have some responsible friends that will give you a heads up when a landslide ruins your planned route (thanks, Ash…).
Map out your 'not-to-be-missed' locations to ensure you get to do, explore and get amongst your dream bucket list items. We made sure to sit down together and talk about what was important to us so our trip was a guaranteed success and we have enough time to hit all the non negotiables.
Use roadtrippers.com to create your itinerary. It's dope - this handy dandy online tool reveals the total distance of your trip, shows you national parks and campgrounds and calculates the approx. fuel cost of your trip. So awesome!
Use Hopper (app on your phone) to track flight prices. This is my #1 tool for booking flights the past few months, and it hasn't let me down! It takes the guesswork out of predicting when the best time to book is. Highly recommend setting a trip to 'watch' and the app will send you notifications when the prices drop!
AWE-INDUCING HIKES
Slay the Queenstown Hill at sunset

Roys Peak in Wanaka is a no-brainer. It's a slog, but if I can hike for 5+ hours in Kmart runners, you've got this. We didn't get to it this trip but check out the view on my last visit here.

Hooker Valley Track in Aoraki NP (Mount Cook) is an easy-peasy trail that is riddled with tourists boasting I LOVE NZ shirts, but don't let that turn you off. It is spectacular.

Brave the 2200+ stairs on the Mueller Hut Trail in Aoraki NP. You'll get your sweat on but layer up, as the mid-peak we called our end point was surrounded by ice. Pack snacks!

There are many winners in the surrounds of Queenstown like the Routeburn and Ben Lomond, but if you want an intense hike that is half the time, ask the locals for directions to the Glacier Burn Track.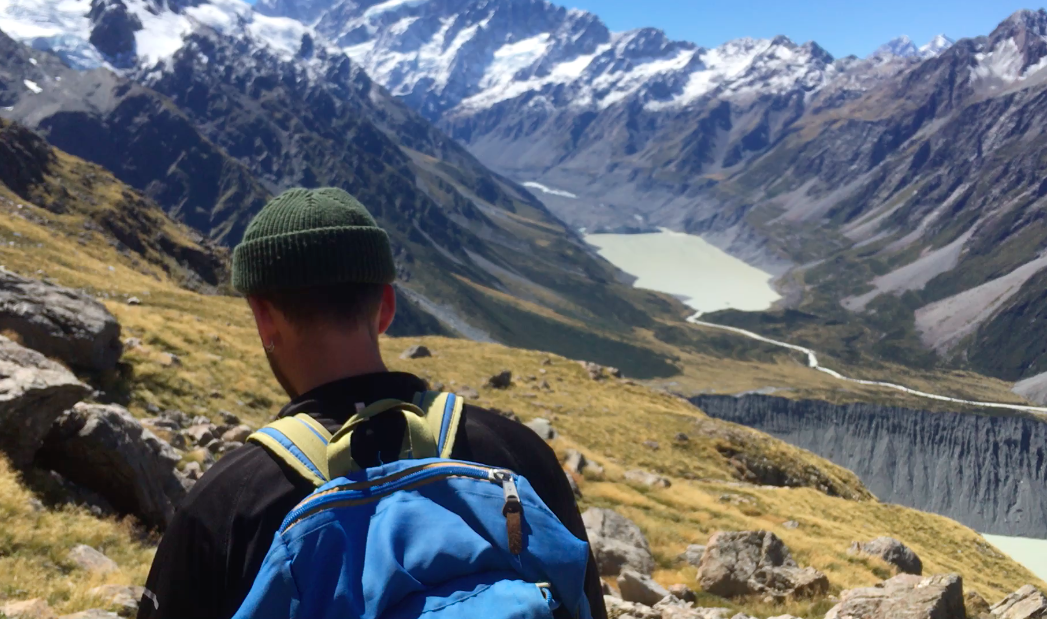 For the foodies…
WANAKA: Order the medicinal mushie coffee before you hike Roys Peak or Diamond Lake trail at Dripping Bowl. This food truck is a dope little haven for all things superfood!

QUEENSTOWN: Resist even looking at the menu and march up to the counter to order the Vegan Benedict at Bespoke Kitchen. Promise, my carnivore friends came back for seconds for this meal! #BestIEverHad

QUEENSTOWN: I dreamed of eating a meal at Sherwood just because of how sick their website design is. To celebrate arriving on the South Island, we went all out (jokes) in this fine dining heaven and ordered the bread and butter. WHOA. Mouthgasm. Just go, as my photo will not encapsulate the experience effectively. I was devouring the whole landscape, decor, cutlery and lighting on top of the actual food!
Feeling good is KEY while traveling. We all know what it's like to pig out then feel sluggish the day after, and this energy is valuable to get you up mountains! So, even though groceries are astronomically priced in NZ, keep it simple on the road and invest in quality produce and the extras that make you feel like #EmbodiedVitality. Our fave NZ foods that felt lush to have stocked in our wee wooden kitchen: Raglan Coconut Yoghurt, Sauerkraut, smokey hummus (oh my loooooord), nut butter or coconut butter, paleo bread and cacao, of course! (Use SPIRITEDSEEKER at checkout for 10% off any order of Sacred Cacao for your own traveling ceremony!)
The one thing I'll drive home: just go. If New Zealand is a place you wanna explore, make it work. This place is truly special. The land feels sacred, the nature is breathtakingly beautiful and you'll be in awe every damn day. Worth every cent, if you ask me!
Have you been to NZ? Comment below your favourite spot that blew your mind!